Search Results
This week on The Naturalist Bernie sits down with Alex Bolesta, Ariana Rickard, Chin-Li Yan, and Pierre Bull for a discussion on silk and the incredible creatures that make them: silk worms. The secret of silk's origin was kept secret for literally thousands of years, and not without purpose, for silk is stronger and tougher than tensile steel, and a piece of silk the size of a pencil could hold a 747. Tune in for a group discussion on how a tiny little worm can build fortunes and yet is still kept as pets in China. This episode was sponsored by Fairway: like no other market.
Photos: Silkworms in their various stages
Learn about Italian wines of every caliber on In The Drink! Wine Director Laura Wickiewicz, from Laconda Verde tells listeners all the best wines from many different price points. Tune in to hear the story of a young wine enthusiast's rise to a career as an expert in the field. Find out about blind tastings, the skivyy on pinot gris, compiling a great wine list, and how to break into the wine industry! Don't miss it! Thanks to our sponsor,
Fairway Markey
. Thanks to Takstar for today's music!
"I know how easy it is to feel compelled to have a super geeky list, but I strive actively to put wines on there that would have mass appeal." [20:40]
"You're that middleman between the diner and the chef, and if you have an understanding of what goes on back there, then everything transitions better." [11:20] -- Wine Director Laura Wickiewicz on In The Drink
Update Required
To play the media you will need to either update your browser to a recent version or update your
Flash plugin
.
Jump to Segment:
On this week's Flash Talks Cash Andrew Newman joins JoAnn Flash Fleming via the phone to talk about the wage gap. Ever since women entered the workforce in the United States, they have been earning lower wages than men for the same work- and it continues to happen to this day! Join us to hear JoAnn recount some of the history of wage disparity between genders, including the entrance of women in the workforce during World War II and the Equal Pay Act of 1963. Hear about how single mothers face even more adversity in the workplace, and how the price of housework stacks up. This episode has been brought to you by
Fairway Market
.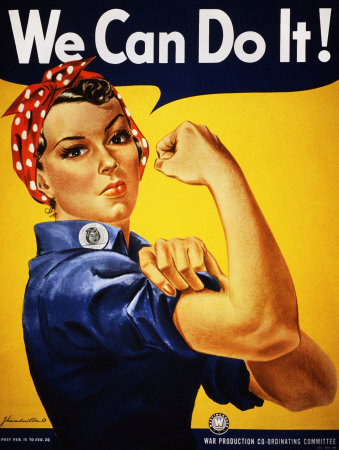 "In back in the 50s and up to the early 60s the disparity was about 60 cents to a dollar. A woman made 60 cents to every dollar a man made, and we're talking the same work." -- JoAnn "Flash" Fleming on Flash Talks Cash
Update Required
To play the media you will need to either update your browser to a recent version or update your
Flash plugin
.
Jump to Segment:
Tags:
Desperate Houswives
,
finances
,
Rosie the Riveter
,
World War II
,
fair wage
,
union shop
,
classifieds
,
Equal Pay Act of 1963
,
Equal Pay Act
,
the wage gap
,
work history
,
gender
,
Proctor and Gamble
,
family
,
family obligations
,
the mommy track
,
disability insurance
,
maternity leave
,
book keeping
,
male vs. female
,
sue
,
NOW
,
Betty Friedan
,