Search Results
VERY BERRY DRESSING
This sweet and tangy dressing is perfect for spicy salads like our mix! You can freeze any leftover in ice cube trays and then transfer to Tupperware. Defrost at room temp.
FOR THE SALAD:
¼ lb of mesculin mix
¼ lb of arugula or ruby streaks mustards
1 cucumber, thinly sliced

FOR THE DRESSING:
1 cup strawberries or raspberries, preferably frozen (If you are using fresh berries, reserve a few as garnish, then bag the remainder and freeze for 20 minutes).
1 cup olive oil
½ cup lemon juice
1 T honey (or more, to taste)
1 T chopped Mint
Salt to taste
1 t fresh ground pink peppercorns

Wash and dry the salad. Make sure the salad is good and dry, as oil-based salad dressing will not adhere to wet salad!
Place all ingredients for the dressing in a blender or food processor. Buzz on high for one minute.
Drizzle the salad greens with 2 T of the dressing at a time, tossing thoroughly as you add, until the leaves are coated but not soggy. Top with cucumber and drizzle slices with additional dressing. Serve immediately.
Update Required
To play the media you will need to either update your browser to a recent version or update your
Flash plugin
.
Jump to Segment:
Jimmy Carbone has an international crew in the studio for this week's episode of Beer Sessions Radio! Jon Lundbom brings some of his favorite brewers on to the show to talk about importing with B. United. Paolo Fontana of Birra Baladin is in the studio sharing some of his Italian beers, and talking about his love for New York City. Michael Brogaard is talking about mead in Denmark, and why Dansk Mjod differs from so many other mead companies in the field of brewing technology. Later, Greg Engert and Megan Parisi call in to talk about importing laws in Washington D.C. and their upcoming brewery, Bluejacket. Listen in to hear the crew taste some beers from Simon Webster and Rob Lovatt's Thornbridge Brewery in the United Kingdom. Michael Brooks and Bryan Lindner from Bed-Vyne Brews come into the studio to talk about starting a beer retail outlet in the Bed Stuy neighborhood in Brooklyn! This program has been sponsored by
GreatBrewers.com
. Thanks to
The Hollows
for today's music.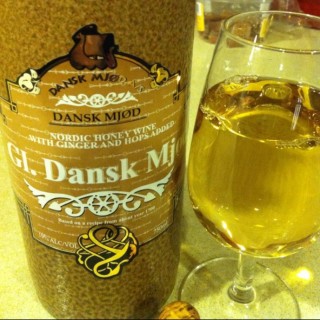 "The bar for bringing a beer into the market into the States is getting very high." [6:50] -- Jon Lundbom on Beer Sessions Radio
"You have a lot of technology for making beer, and you can use it to make good beer. But for mead, there is nothing. We are developing that technology for ourselves." [8:45] -- Michael Brogaard on Beer Sessions Radio
Update Required
To play the media you will need to either update your browser to a recent version or update your
Flash plugin
.
Jump to Segment:
Tags:
Birra Baladin
,
Dansk Mjod
,
Jon Lundbom
,
hops
,
Australian hops
,
Simon Webster
,
Paolo Fontana
,
Michael Brogaard
,
Bryan Lindner
,
Michael Brooks
,
B. United
,
food and beer pairings
,
bitter beers
,
wine
,
beer
,
aperitif
,
Rob Lovatt
,
Super Baladin
,
artisanal
,
mead
,
Denmark
,
cocktail
,
apprenticeship
,
fermentation
,
honey
,
alcohol
,
Viking Blood
,
hibiscus
,
New York City
,
Italy
,
Tags:
Wythe Hotel
,
Thornbridge Hall
,
Professor Fritz Briem
,
Hans Peter Drexler
,
organic
,
clove
,
tasting
,
Radegast
,
cascade hops
,
Bed-Vyne
,
craft beer
,
bodegas
,
Bed Stuy
,
Bluejacket Brewery
,
Church Key
,
collaboration beer
,
IPA
,
Half Acre
,
Jeff O'Neill
,
Share the Rainbow
,
coolship
,
Greg Engert
,
Megan Parisi
,
barrel aging
,
wild bacteria
,
direct import
,
cask
,
Coalition
,
Imperial Rye ESB
,
beer destination
,
Tags:
beer list
,
gentrification
,
Miller High Life
,
reclaimed wood
,
art
,
retail
,
Kipling
,
terroir
,
cat piss
,
Kenya
,
Pilsner Urquell
,
session beers
,
The topic of the day: English cider and perry! This week on Beer Sessions Radio, Jimmy Carbone is joined in the studio by Tom Oliver of Oliver's Perry & Cider House. Learn about Tom's family history in the cider, perry, and winemaking business, as well as some common misconceptions about cider and perry in the United States. BR Royla and Joel Shelton of Shelton Brothers Importing are in the studio to explain why they import Tom's product, and how they hope that cider gains a wider audience in this country. Tony Forder of Ale Street News plays the flute and talks about his upcoming European beer tour, while Clint Carter of Men's Health Magazine talks about the nutritional benefits of a good brew. Listen in to learn more about some awesome, rare Belgian beers, as well as signature characteristics of wild yeast! Thanks to our sponsor,
GreatBrewers.com
, and thanks to
Pamela Royal
for today's musical selections.
"At this time, I see cider with the brightest future it's ever had because it's not just the die-hard cider drinkers who are enthusiastic, but the younger drinkers are showing interest." [3:30]
"Wild yeast are so interesting, and I admire every beer-maker who dabbles in that world." [27:30]
-- Tom Oliver on Beer Sessions Radio
Update Required
To play the media you will need to either update your browser to a recent version or update your
Flash plugin
.
Jump to Segment:
Tags:
Tom Oliver
,
England
,
cider
,
Goose Island
,
Virtue Cider
,
Joel Shelton
,
BR Rolya
,
apples
,
agriculture
,
wine
,
family business
,
Tony Forder
,
Ale Street News
,
cider culture
,
dry cider
,
fizz
,
sweetness
,
Gold Rush
,
cider apples
,
orchard
,
Oliver's Cider
,
Clint Carter
,
Men's Health Magazine
,
beer
,
Cider Week
,
traditional cider
,
Spanish ciders
,
alcohol
,
farm
,
hop growing
,
bottle conditioning
,
cash crop
,
crop diversity
,
perry
,
Greg Hall
,
distribution
,
Lauren Shepard
,
Jimmy's No. 43
,
Hudson Valley
,
French cider tradition
,
Tags:
Joel Shelton
,
tannin
,
cider house
,
Yarlington Mill
,
bad ciders
,
Zima
,
cider tasting
,
hard cider
,
specialty ciders
,
Mayflower
,
raisins
,
honey
,
wild yeast
,
fermentation
,
pear
,
perry pears
,
tree breeding
,
nitrogen
,
biodiversity
,
Tags:
fundraising
,
St. Bernardus Brewery
,
Beer Advocate
,
Belgian beers
,
Cantillon
,
The Jesus Beer
,
the best beer in the world
,
Abt 12
,
monastery
,
Craft Brewers Conference
,
Beggars & Thieves
,
The Brewer's Art
,
DC Brau
,
session beer
,
flavor
,
fruit
,
beer nutrition
,
calories
,
polyphenols
,
B vitamins
,
moderate drinking
,
moderation
,
horseback riding
,
Michigan
,
Charlie Bamforth
,
The Festival
,