Search Results
The Main Course reels in the fishy facts to sourcing fish sustainably and which species are safest to eat. Research scientist Tim Fitzgerald and Chef Jarret Schwartz join us to discuss this murky matter.
Update Required
To play the media you will need to either update your browser to a recent version or update your
Flash plugin
.
Jump to Segment:
The Roger Smith Cookbook Conference
February 7-9, 2013
Tickets available at
cookbookconf.com
Tune in to free webcast February 8-9, 2013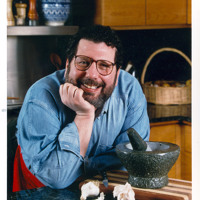 Arthur Schwartz, also known as The Schwartz Who Ate New York and The Food Maven, was not long ago called "a walking Google" of food and food history by the New York Times Magazine. His career started in 1969 with nine years at Long Island's Newsday, where he was a food feature writer and reporter. For more than 18 years he was then the executive food editor, chief restaurant critic and food columnist for the New York Daily News. For nearly 13 years, he was on WOR radio (and syndicated) with a daily Food Talk program. He is the author of seven books. He is also an expert on Southern Italian cooking, and his books on the subject Naples at Table: Cooking in Campania, and The Southern Italian Table: Authentic Recipes from Traditional Kitchens, express his main interest, putting food in cultural and historical context. He also wrote Arthur Schwartz's Jewish Home Cooking: Yiddish Recipes Revisited and Arthur Schwartz's New York City Food: An opinionated history with legendary recipes, both of which were nominated for James Beard Awards and won awards from the International Association of Culinary Professionals – for best American subject cookbook, and cookbook of the year. Arthur is a frequent lecturer, and teaches cooking, at his home in Brooklyn, and at his own cooking and culture program conducted from a water buffalo farm 30 minutes south of the Amalfi Coast. Arthur continues to broadcast on a National Public Radio (NPR) station. You can listen live (7:35 to 8 a.m. every Monday), or by archived podcast, by going to www.RobinHoodRadio.com.
Andrew F. Smith teaches food history, food controversies and professional food writing at the New School in New York City. He is the author or editor of twenty-three books, including his latest works, American Tuna: The Rise and Fall of an Improbable Food (University of California Press) and Drinking History: 15 Turning Points in the Making of American Beverages (Columbia University Press). He serves as the editor in chief of the Oxford Encyclopedia on Food and Drink in America and is the Series Editor for the Edible Series published by Reaktion Books. He has written more than three hundred articles in academic journals, popular magazines and newspapers, and has served as historical consultant to several television series. For more about him, visit his website: www.andrewfsmith.com
Katy Keiffer is a food professional with decades of experience in many aspects of the business. She worked as a cook, a caterer and a butcher for twenty years, subsequently morphing into a food publicist for nearly ten years, creating publicity tours for best selling culinary talent such as Anthony Bourdain, Robin Miller, Rachael Ray, and the Food Network Kitchens staff. She is a regular contributor to Food Arts Magazine, mostly writing about the meat industry, and the producer and host of Straight No Chaser, a weekly show covering food and politics on The Heritage Radio Network. www.heritageradionetwork.com/programs/77-Straight-No-Chaser
Update Required
To play the media you will need to either update your browser to a recent version or update your
Flash plugin
.
Jump to Segment:
This week on Beer Sessions Jimmy, Ray and company focus entirely on Belgian Beer. They are joined, as always, by an esteemed panel of guests including Wendy Littlefield of Vanberg and Dewulf and Tony Forder of Ale Street News. The gang discusses everything about beer made in Belgium, including brewing techniques, the tradition of bottling and how Americans found inspiration in the old methods of the Belgians. Tune in and learn about everything from the lack of drafts in Belgium to the food and drink making traditions of monks and nuns. This episode was sponsored by GreatBrewers.com - the #1 beer site on the internet!
Update Required
To play the media you will need to either update your browser to a recent version or update your
Flash plugin
.
Jump to Segment:
Tags:
Beer Sessions
,
Heritage Radio Network
,
Jimmy Carbone
,
Jimmy's No 43
,
Ray Deter
,
d.b.a
,
Fuller's - ESB
,
Wendy Littlefield
,
Vanberg and Dewulf
,
Belgian beer
,
Wendy had a big role in changing American perception of Belgian beer
,
DuPont
,
Lambucha
,
Lambic beer and kombucha
,
at the turn of the century there were 1200 beers from Belgian
,
there has been a tremendous consolidation
,
label beers
,
same beer made for different villages
,
contract brewing
,
people brew in their garage in Belgium
,
Hop - Ruiter
,
unfiltered
,
Ben Wood
,
Union Beer Distributors
,
Tony Forder
,
Ale Street News
,
Beer Paradise tour
,
lambic producers
,
In Defense of Great Thirst
,
top 5 places to go in Belgium
,
Brussels
,
Musée Magritte
,
usually bottled beer is served in Belgium
,
Wallonia
,
DuPont Brewery
,
Tags:
Madeline Scherb
,
A Taste of Heaven: A Guide to Food and Drink made by Monks and Nuns
,
took 6 years to get out
,
self sufficient communities
,
most monks and nuns are vegetarian
,
some make goose liver pate
,
French charcuterie
,
women as brewers
,
when will nuns start brewing?
,
trappist beer
,
Sam Merritt
,
Charlie Trotter
,
beer miso and beef cheeks
,
tea bags of hops
,
man sized tea bags
,
Ommegang Three Philosophers Beer
,
barley wine
,
bottle conditioned beer
,
active yeast in the bottle
,
Saison DuPont
,
desert island beer
,
aged lambic
,
American brewers have adapted to Belgian style
,
comparative tastings help you figure out what you like
,
old lambics are meant to be flat
,