Search Results
Three million tonnes of liquid gold have been produced this year and no we're not talking about bullion, we're talking about olive oil. From it's first sightings on ancient Egyptian pyramids to the many different styles and pressings today, olive oil has been a staple of life for thousands of years. With the help of oil importer and expert Tony DeMarco, Linda Pelaccio takes you on an organoleptic retrospective of one of the worlds oldest delicacies. From it's early uses helping sustain traveling Roman Armies to the recent discoveries of its health benefits and uses in cosmetics and pharmaceuticals, this week's A Taste of The Past will provide you with an encyclopedic view of this amazing but hard to grow tree crop. Also, tune in for a live tasting of some of the best olive oils in the world at the end of the show! This episode is sponsored by
Fairway Market
.
Update Required
To play the media you will need to either update your browser to a recent version or update your
Flash plugin
.
Jump to Segment:
Tags:
A Taste of The Past
,
Linda Pelaccio
,
olive oil
,
liquid gold
,
Fairway Market
,
Roman Empire
,
Tony DeMarco
,
olive oil culture
,
Syria
,
Turkey
,
wheat
,
Mesopotamia
,
olives
,
Egyptian pyramids
,
religious services
,
history of olive oil
,
Roman Soldiers
,
pecorino romano
,
olive oil processing
,
olive oil marketing
,
Italy
,
Tags:
olive oil production
,
wars
,
invasions
,
olive trees
,
growing olive trees
,
expensive crop
,
harvesting olive trees
,
organoleptic
,
grades of olive oil
,
extra virgin
,
health benefits
,
makeup
,
uses of olive oil
,
fats
,
olive oil tasting
,
anti-inflammatory
,
olive blends
,
D.O.P. Gatta Hurdes
,
cabeco dos Nogueiras
,
International Olive Council
,
Baena
,
Andalusia
,
denomination of origin
,
Kosher
,
Mario Solinas Award
,
medium green fruity catagory
,
Faith Willinger
,
Moors
,
frying olive oil
,
Portugese Oil
,
green fruity
,
This week's guests: Martha Hoover & Chef Nira Kehar.
Having never waited tables, never cooked professionally or in any way worked in a restaurant, Martha Hoover has created a successful group of dining establishments—Cafes Patachou, Petite Chou by Patachou, Napolese Artisanal Pizzeria and Wine Bar, GELO Dolce Bar, Public Greens Urban Kitchen Garden and Grill and Patatruck Mobile Patachou Kitchen. The restaurants reflect her lifelong passion for food and ingredients of excellent quality, as well as a joie de vie. All the concepts are cherished neighborhood destinations, serving dishes made with the highest quality ingredients in the freshest preparation methods possible. Their walls are filled with art, music floats above the buzz of the diners and an urban energy reverberates that is the direct result of her vision. When Hoover opened Café Patachou, her goal was to prepare the best "simple" food using high quality ingredients. This was quite a novel approach in 1989. Vendors said that it was a mistake to roast our own meat and make homemade bread because cheaper, yet inferior, alternatives were available. The standard in the local industry deemed that strict quality standards were not necessary for success in this market. Immediately, customers noted the difference between Café Patachou and other breakfast/ lunch restaurants and that has been the key to the success of the entire company. Patachou, Inc. has purposefully grown slowly over the past twenty years. Hoover is a hands-on owner who is truly active in the business assuring the adherence to exacting standards and attention to every detail.
"I grew up with this family mantra that all the great food in the world starts and ends in New York." [04:00]
"I don't think I told our story enough early enough. It just didn't strike a chord with enough people." [09:00]
--Martha Hoover on Radio Cherry Bombe
Born and raised in Montreal, Nira Kehar's culinary adventures began with imbibing her mother's skills in the kitchen. She traded a career in engineering to train at the prestigious ITHQ (Institut de Tourisme et d'Hôtellerie du Québec), Canada's premier culinary institute. Chapter three was moving to India six years ago, where she began to give life to her creative vision (preceded by a grueling few months in the Maurya Kitchens). Driven by her desire to please and excite the palate, Chef Nira's approach combines fresh, seasonal produce with a range of global cooking techniques, loved by the food community and critics alike. This year, along with the James Beard foundation event, she is busy experimenting and evolving her sister brand, Atelier Nini.
"I'm privileged in that the worst thing that ever happened to me is the best thing that ever happened to me." [27:00]
"Food is like a living organism it has its own moods and freaky things that happen to it." [33:00]
--Nira Kehar on Radio Cherry Bombe
Update Required
To play the media you will need to either update your browser to a recent version or update your
Flash plugin
.
Jump to Segment:
Tags:
Radio Cherry Bombe
,
women in food
,
food
,
Julia Turshen
,
New York City
,
recipes
,
law
,
opening a restaurant
,
field greens
,
Indianapolis
,
Public Greens
,
public green space
,
entrepreneurship
,
food insecurity
,
dietary education
,
Chef Nira Kehar
,
Montreal
,
global cuisine
,
art
,
mindfulness
,
Yoga
,
spirituality
,
nature
,
natural ingredients
,
On today's episode of A Taste of the Past, host Linda Pelaccio speaks with special guest Mollie Katzen, known throughout the culinary world as one of the best-selling cookbook authors of all time. A 2007 inductee into the James Beard Cookbook Hall of Fame—and largely credited with moving plant-based cuisine from the fringe to the center of the American dinner plate—Katzen has been named by Health Magazine as one of The Five Women Who Changed the Way We Eat, and she has been a member of the faculty at Healthy Kitchens, Healthy Lives, the groundbreaking annual symposium co-hosted by The Culinary Institute of America and the Harvard School of Public Health, since its inception. Today's topic on the show includes the evolution of vegetarian cuisine, and how Mollie has taken the rise of vegetarian popularity to even further heights. Her latest cookbook,
The Heart of the Plate
, completely reinvents the vegetarian repertoire, unveiling a collection of beautiful, healthful, and unfussy dishes — her "absolutely most loved." Whether it's a salad of kale and angel hair pasta with orange chili oil or a seasonal autumn lasagna, these dishes are celebrations of vegetables. Tune-in to learn more! This program has been sponsored by
Fairway Market
.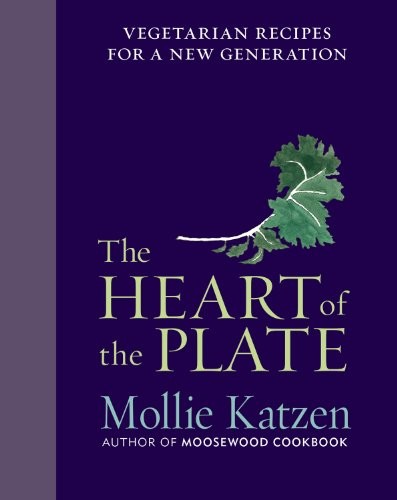 "A lot of vegetarian food isn't actually about vegetables. In some ways it's actually about meat, and how you swap things out." [9:50]
"It's so much easier to make a dish that is focused on the vegetable. It's so enjoyable!" [23:50]
-- Mollie Katzen on A Taste of the Past
Update Required
To play the media you will need to either update your browser to a recent version or update your
Flash plugin
.
Jump to Segment:
Tags:
The Heart of the Plate: Vegetarian Recipes for a New Generation
,
vegetarian
,
cuisine
,
simplicity
,
steak
,
plate
,
brown rice
,
beige
,
California
,
San Francisco
,
1970
,
pesto
,
green
,
basil
,
macrobiotic
,
diet
,
dairy
,
cooking
,
flexatarian
,
produce
,
broccoli
,
television
,
identities
,
vegan
,
relax
,
Tags:
vegetables
,
produce
,
farmers markets
,
broccoli
,
grill pan
,
crispy
,
onion rings
,
asparagus
,
recipe
,
kale
,
crunchy granola
,
brussel sprouts
,
PARTNERS
FEATURED EVENTS