Search Results
This week's Q-Report theme is FEAR: The media's role, the brain's response with David Seelig, painting emotions with Paul Vogeler, urban farming with Anastasia Plakias and Brandon Hoy, and a medieval performance with Molly Ward
Update Required
To play the media you will need to either update your browser to a recent version or update your
Flash plugin
.
Jump to Segment:
This week on The Farm Report, Erin Fairbanks is talking with two important guests from the world of food and agriculture. First up is Mark Schlosberg, the National Organizing Director for Food & Water Watch. Tune in to hear Erin and Mark discuss two ballot initiatives from the past election cycle that affect the environment and farming: Question 300 in Colorado, and Proposition 37 in California. Learn how the community of Longmont, Colorado kept hydrofracking out of their town. What organizing methods were successful? Later, hear Mark talk about the labeling of GMO foods in California, and why Prop 37 did not pass. The people have the right to know where their food comes from! Learn about Food & Water Watch's upcoming campaigns dealing with transparency in the food system. Later, Erin calls up Severine Von Tscharner Fleming, founder of The Greenhorns and host of HRN's Greenhorn Radio. The Greenhorns are a non-profit organization that works with young farmers and creates media that promotes sustainable agriculture and educates beginning farmers. Hear Erin and Severine talk about Superstorm Sandy, and how it impacted farmers in the Hudson Valley. Learn about new farm technology, and how young farmers are banding together in numbers to develop tools to deal with unpredictable weather. Finally, Erin checks in with Jeanne Hodesh for this week's GrowNYC Market Update! This episode has been sponsored by
Hearst Ranch
.
"Communities should have the ability to protect themselves from the real threats that fracking poses to water, air, public health, and really- the community. When people band together and talk to their neighbors and do real organizing, they're capable of pushing back against big money interests that are trying to exploit our essential resources without regard to the consequences." [4:15]
-- Mark Schlosberg on The Farm Report
"One-hundred-year storms are happening every year, and when your livelihood depends on being at the market of every week...and, largely depends on pieces of aluminum supported by pieces of plastic with sixty thousand dollars with of tomatoes underneath! It's hard to have piece of mind and think that it's a simple matter." [21:00]
-- Severine Von Tscharner Fleming on The Farm Report
Update Required
To play the media you will need to either update your browser to a recent version or update your
Flash plugin
.
Jump to Segment:
Tags:
public water
,
Food & Water Watch
,
local
,
Mark Schlosberg
,
safe food
,
national organization
,
consumer
,
policy
,
Question 300
,
fracking
,
Prop 37
,
Colorado
,
Longmont
,
organizing
,
big money
,
ban
,
ballot
,
demographics
,
genetic engineering
,
labeling of GMO foods
,
social media
,
junk food
,
Monsanto
,
greenwashing
,
organics
,
healthy
,
genetically engineered food
,
wwww.foodandwaterwatch.org
,
food labeling
,
membership
,
oil
,
gas
,
Tags:
The Greenhorns
,
non-profit
,
radio
,
movie
,
Hudson, New York
,
Superstorm Sandy
,
Hurricane Irene
,
New York City
,
winter squash
,
CSA
,
storage crops
,
farm technology
,
finance technology
,
produce
,
Arduino
,
The Farmer's Almanac
,
weather impact
,
Stella Natura
,
Ecohack
,
Farm Hack
,
open source
,
Severine Von Tscharner Fleming
,
3rd Ward
,
Jeanne Hodesh
,
fresh food
,
donations
,
donate a bag
,
www.grownyc.org/donate
,
compost
,
recycling
,
Lower East Side Ecology Center
,
Madison Square Park
,
Thanksgiving
,
apple pie
,
turkey
,
recipe
,
The Roger Smith Cookbook Conference
February 7-9, 2013
Tickets available at
cookbookconf.com
Tune in to free webcast February 8-9, 2013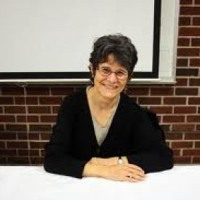 Laura Shapiro was a columnist at The Real Paper (Boston) before beginning a 16-year run at Newsweek, where she covered food, women's issues and the arts and won several journalism awards. Her essays, reviews and features have appeared in The New Yorker, Gourmet, and many other publications. Her first book was Perfection Salad: Women and Cooking at the Turn of the Century (1986), which the University of California Press has reissued with a new Afterword. She is also the author of Something from the Oven: Revinventing Dinner in 1950s America (Viking, 2004), and Julia Child (Penguin Lives, 2007), which won the award for Literary Food Writing from the International Association of Culinary Professionals in 2008. During 2009-10 she was a fellow at the Cullman Center for Scholars and Writers at the New York Public Library. Most recently she was co-curator for "Lunch Hour NYC," an acclaimed exhibition documenting the mingled histories of New York City and the American midday meal, which opened at the New York Public Library in June 2012.
Andrew F. Smith teaches food history, food controversies and professional food writing at the New School in New York City. He is the author or editor of twenty-three books, including his latest works, American Tuna: The Rise and Fall of an Improbable Food (University of California Press) and Drinking History: 15 Turning Points in the Making of American Beverages (Columbia University Press). He serves as the editor in chief of the Oxford Encyclopedia on Food and Drink in America and is the Series Editor for the Edible Series published by Reaktion Books. He has written more than three hundred articles in academic journals, popular magazines and newspapers, and has served as historical consultant to several television series. For more about him, visit his website: www.andrewfsmith.com
Katy Keiffer is a food professional with decades of experience in many aspects of the business. She worked as a cook, a caterer and a butcher for twenty years, subsequently morphing into a food publicist for nearly ten years, creating publicity tours for best selling culinary talent such as Anthony Bourdain, Robin Miller, Rachael Ray, and the Food Network Kitchens staff. She is a regular contributor to Food Arts Magazine, mostly writing about the meat industry, and the producer and host of Straight No Chaser, a weekly show covering food and politics on The Heritage Radio Network. www.heritageradionetwork.com/programs/77-Straight-No-Chaser
Update Required
To play the media you will need to either update your browser to a recent version or update your
Flash plugin
.
Jump to Segment: