Search Results
Tune in to this week's episode of
Chef's Story
as Dorothy Cann Hamilton chats with Sean Brock again, this time to celebrate the release of his book,
Heritage
. Sean is the chef behind the game-changing restaurants Husk and McCrady's, and his first book offers all of his inspired recipes. With a drive to preserve the heritage foods of the South, Brock cooks dishes that are ingredient-driven and reinterpret the flavors of his youth in Appalachia and his adopted hometown of Charleston. The recipes in
Heritage
include all the comfort food (think food to eat at home) and high-end restaurant food (fancier dishes when there's more time to cook) for which he has become so well-known. Brock's interpretation of Southern favorites like Pickled Shrimp, Hoppin' John, and Chocolate Alabama Stack Cake sit alongside recipes for Crispy Pig Ear Lettuce Wraps, Slow-Cooked Pork Shoulder with Tomato Gravy, and Baked Sea Island Red Peas. This is a very personal book, with headnotes that explain Brock's background and give context to his food and essays in which he shares his admiration for the purveyors and ingredients he cherishes. This program was brought to you by
Whole Foods Market
.
"The cuisine of the south is dictated by the terroir and geography. The south is insanely diverse." [04:00]
"The history of Charleston cooking is amazing. if you look back you can see cuisine dating back to the 17th century. when you have that information to access - it's amazing." [12:00]
--Sean Brock on Chef's Story
Update Required
To play the media you will need to either update your browser to a recent version or update your
Flash plugin
.
Jump to Segment:
Tags:
Chef's Story
,
Dorothy Cann Hamilton
,
culinary education
,
chefs
,
memoirs
,
apprenticeship
,
training
,
advice
,
restaurant industry
,
restaurants
,
kitchens
,
cooking
,
Sean Brock
,
Husk
,
Nashville
,
Charleston
,
South Carolina
,
southern cuisine
,
southern food
,
American cuisine
,
McCrady's Restaurant
,
Heritage
,
low country cooking
,
Appalachian cuisine
,
canning
,
preserving
,
rice
,
This week on
Cutting the Curd
, host Greg Blais is wrapping up the series on cheese and art discussion cheese in the visual medium, whether that be in photography or painting. Welcoming guest co-host Cara Warren, Cheese Manager and Buyer at Greene Grape Provisions, to the show as well as Mike Geno and Carol Bobolts. Mike Geno is a fine artist from Philadelphia who specializes in realistic paintings of objects such as cheese, bread, bacon, and other types of food. Carol Bobolts leads the Red Herring Design team to bring a love of food (especially cheese!) to culture and has created award-winning designs for a wide range of clients. Talking to Greg and Cara Warren about how they style cheese in their work, as it turns out both have run into the problem that once you cut into cheese, the cheese is a ticking time bomb in appearance. The group goes on to discuss certain magical mistakes made in the cheese world and how what seems like a mishap can often turn into a great tasting cheese, a beautiful looking cheese, or even an amazing shot of cheese. At the tail end of the show, Greg asks the guests how they translate the taste, smell, and texture of cheese through their particular visual medium. Tune in for a great wrap of the cheese and art series on
Cutting the Curd
. This program was brought to you by
The Wisconsin Milk Marketing Board
.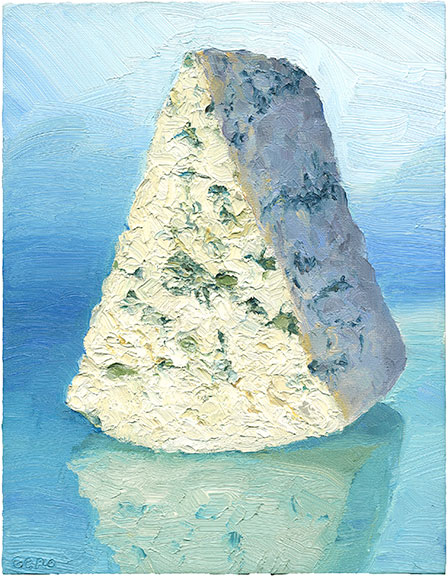 "Billy Blue" painted by Mike Geno
"There's absolutely an art to cheese making." [20:51]
--Carol Bobolt on Cutting the Curd
"We're actually giving access to cheese through aesthetics." [25:35]
--Mike Geno on Cutting the Curd
Update Required
To play the media you will need to either update your browser to a recent version or update your
Flash plugin
.
PARTNERS
FEATURED EVENTS