Search Results
This week's guests: Dorie Greenspan & Christine Muhlke
Over the past 20 years, Dorie Greenspan has written 10 cookbooks and won six James Beard and IACP awards for them, including Cookbook of the Year ... twice! She won the IACP Cookbook-of-the-Year Award for Desserts by Pierre Herme and for The New York Times Bestseller, Around My French Table. She's also been named to the James Beard Foundation's Who's Who of Food and Beverage in America. Dorie's latest book is Baking Chez Moi, Recipes From My Paris Kitchen to Your Kitchen Anywhere. Baking Chez Moi is filled with recipes for the simple, homey, wonderfully delicious sweets that she and her friends bake at home in Paris.
"Living in France has really meant that I can work in France. "I have the access to people who can share recipes with me." [05:00]
"There are more women doing spectacular jobs that I didn't think would be possible at the time I was being turned away." [39:00]
-- Dorie Greenspan on Radio Cherry Bombe
Bon Appetit Executive editor Christine Muhlke is the co-author of "Manresa: An Edible Reflection" with David Kinch and "On the Line: Inside the World of Le Bernardin" with Eric Ripert. She was formerly the food editor at the New York Times Magazine.
"One of the great things about being a writer is it gives you license to be nosy." [12:00]
--Christine Muhlke on Radio Cherry Bombe
Update Required
To play the media you will need to either update your browser to a recent version or update your
Flash plugin
.
"A cold chain is a supply chain that transports and stores temperature sensitive perishable goods. The most visible manifestation of the cold chain is the electric household refrigerator." - Jonathan Rees
The world was changed by the innovation of refrigeration. This week on A Taste of the Past, Linda Pelaccio is joined by Dr. Jonathan Rees. Dr. Rees is a professor of history at Colorado State University - Pueblo, and the author of Refrigeration Nation. Tune in to hear about the origins of the ice industry and ice boxes, and learn about 'the cold chain'. Find out how compression refrigeration developed during the Civil War era, and why the marketing of refrigerators in the 1940s relied on size. Learn why cold storage was a controversial political issue, and how refrigeration was essential to the development of the supermarket. How were frozen foods received upon their arrival? Find out on this week's edition of A Taste of the Past! This program has been sponsored by Regional Access. Music by Jack Inslee.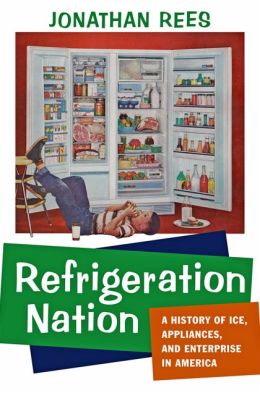 "Ice was something that all classes were interested in, whether or not all classes could afford it." [5:50]
"Producing food and having it spoil is just as harmful to the environment as refrigeration." [17:10]
-- Dr. Jonathan Rees on A Taste of the Past
Update Required
To play the media you will need to either update your browser to a recent version or update your
Flash plugin
.
Jump to Segment:
Tags:
Refrigeration Nation
,
refrigerator
,
Jonathan Rees
,
history
,
professor
,
steel
,
salt
,
drying
,
pickling
,
ice box
,
mechanical refrigeration
,
the cold chain
,
perishable
,
bananas
,
the tropics
,
compression
,
the Civil War
,
electric household refrigerator
,
marketing
,
energy efficiency
,
environmental factors
,
This week on
Eating Matters
, host Kim Kessler is talking with Gus Schumacher, Vice President and Founding Board Chair of Wholesome Wave. Wholesome Wave is a national nonprofit that is helping to reshape the American food system by putting entrepreneurial, innovative thinking to work. The organization partners with farmers and farmers markets, community leaders, healthcare providers, like-minded nonprofits and government entities to implement programs that increase affordable access to healthy, locally grown fruit and vegetables for consumers in underserved communities. Gus discusses how the organization began, their mission, highlights from their work, as well as the change they hope to see come about concerning hunger and agricultural issues in the future. This program was brought to you by
Cain Vineyard & Winery
.
"I think with the data that we've seen so far doctors are very enthused about the program [Fruit and Vegetable Prescription Program]. They now have something to say to a family, not just to hand them medicine to help reduce diabetes but they have a fruit and vegetable prescription for the family as a unit." [25:00]
"With 10 to 13 million Americans now insured through the Healthcare Act, that hospitals are now turning to wellness and prevention." [29:00]
--Gus Schumacher on Eating Matters
Update Required
To play the media you will need to either update your browser to a recent version or update your
Flash plugin
.
Jump to Segment:
Tags:
Eating Matters
,
Kim Kessler
,
Gus Schumacher
,
Wholesome Wave
,
nonprofit
,
policy
,
Washington, DC
,
Bloomberg
,
food system
,
mayor
,
network
,
farmer
,
farmer's market
,
community leaders
,
advocacy
,
healthcare provider
,
government
,
healthy
,
local
,
fruit
,
vegetables
,
doctor
,
prescription
,
serving
,
family
,
body mass index
,
data
,
IRS
,
PARTNERS
FEATURED EVENTS