Search Results
Meet Brian McKenzie of Finger Lakes Distillery on a special program in anticipation of the 2013 Manhattan Cocktail Classic. The Finger Lakes Distilling story begins in 2007, when Brian McKenzie of Elmira, N.Y., met Thomas Earl McKenzie of Monroeville, Ala., at a craft distiller's conference. The two men aren't related, but they did discover they shared a passion for high-quality, distilled spirits. Brian, a former bank vice-president, had experience in finance and was interested in starting his own business. Thomas Earl's background included wine-making, brewing, farming and consulting for distilleries. It was a fateful meeting - and a great match of talents to start a new distillery. Today, they are well on their way to realizing a dream of working with good friends and family to create products they can offer with pride. This program was sponsored by
Rt 11 Potato Chips
"The idea was to create a distillery in a growing wine region, so we're seeing a ton of tourists come through the area to taste the wines and several of those people are also spirits drinkers so we're trying to cater to that market." [01:00]
--Brian McKenzie of Finger Lakes Distillery on HeritageRadioNetwork.org
Update Required
To play the media you will need to either update your browser to a recent version or update your
Flash plugin
.
This week on At the Root of It Erin took a look at the myriad of wineries situated in the Finger Lakes region of New York. Justin Christoph stopped by to drop Finger Lakes science, giving listeners the scoop on everything from the varietals currently in style upstate to the best B&Bs to stay at while touring the vineyards. This episode was sponsored by Tekserve: your one-stop Mac superstore and support center.
Update Required
To play the media you will need to either update your browser to a recent version or update your
Flash plugin
.
Jump to Segment:
Tags:
Finger Lakes
,
Justin Christoph
,
the region of the Finger Lakes often gets overlooked
,
Riesling AC
,
drive towards quality wines in the Finger Lakes
,
the climate is cold
,
the depth varies
,
they store heat well
,
vines close to the lake can make it through the cold winter
,
Native American wines
,
Concord
,
Cayuga
,
best as eating grapes
,
they are sweet
,
planting European grape varitals in the Finger Lakes
,
climate
,
true potential will be reached after our lifetime
,
slow nature of wine making
,
timelessness
,
the art of patience
,
Bill Wagner
,
there is also a booming cheese industry in the Finger Lakes
,
microbreweries and distilleries
,
Konstantin Frank
,
Tags:
Riesling World Cup
,
the difference between first and third place was very close
,
many 08 vintages will be on store shelves soon
,
as they sell the 08's they bring out the 09's
,
07 was a bit difficult
,
Riesling prefers cool temperature
,
different grapes do better from year to year
,
it seems like every year is a great year in Germany
,
aging capacity
,
what's in store this summer?
,
Riesling AC tastings
,
blind tasting
,
www.fingerlakeswinecountry.com
,
www.fingerlakeswine.com
,
each wine has its own trail
,
Keuka Lake
,
Seneca Lake
,
Watkins Glen
,
Konstantin Frank
,
On this week's Hot Grease, Nicole Taylor is talking dessert and Finger Lakes riesling. But first, Nicole Taylor discusses the NYC soda ban with HRN's own Jack Inslee. Will the ban really slow the obesity epidemic in the city's youth? David Muniz and David Lesniak of London's Outsider Tart are on the program talking about their new book
Piece of Cake: Home Baking Made Simple
. Learn some British pastry language, and hear why the Davids have been so successful bringing American desserts across the pond. Hear how their American regional influences helped define their sweet tooth, and hear what Southern desserts are featured in the book. Later, Nicole chats with Brandon Seager of Red Newt Cellars about the wine terroir of New York's Finger Lakes region. Learn more about the New York Finger Lakes Riesling Launch, and why it's not only important to eat local, but drink local! This episode has been brought to you by
The Heritage Meat Shop
.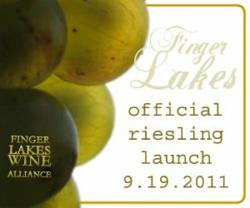 "Dessert should not be a polite activity. There should be a lot of crumbs and grunting." -- David Lesniak on Hot Grease
"We've always had local beer... but there has been a resistance to local wine. One of the beautiful things about New York City is that you have the whole wine world at your fingertips. People don't think that if they're eating local food that they need to drink local wine." -- Brandon Seager on Hot Grease
Update Required
To play the media you will need to either update your browser to a recent version or update your
Flash plugin
.