Search Results
Erin Fairbanks continues her exploration into the world of apples, orchards and cider on this week's episode of "The Farm Report" with guest Steve Wood of Poverty Lane Orchards and Farnum Hill Cider. Find out how apple picking and orchard development has changed over the years, due to packing machinery, industry demands and consumer trends. Learn what goes into cider production, including growing of the fruit and processing of the cider itself. Discover the differences between heirloom and commodity varieties of apples, and hear some of the logistical challenges that come along with distribution, packing and sales. Also, as always, tune in for the GrowNYC Market Update! This program was brought to you by
Susty Party
.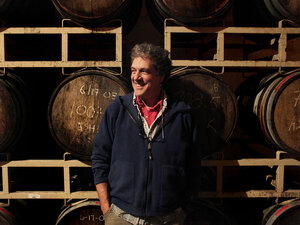 "I started working here in 1965 when I was a kid - so yeah, I guess I've got an apple growing background!" [1:45]
"Since packing machinery came around, the market started insisting on larger apples, waxed apples... the whole thing started to change dramatically." [3:33]
"For a lot of [apple] varieties bigger is not better - it's actually more boring." [10:55]
"Every patch of ground imposes conditions on what things can be grown well there." [12:00]
"A farm is not a natural environment - so the idea that people can grow things naturally is almost a joke to me." [26:28]
"When you plant an orchard - you're basically planting a candy shop for all kinds of organisms. It's very different from having an apple tree in your backyard or a cottage in the woods!" [28:27]
--Steve Wood of Poverty Lane Orchards and Farnum Hill Cider
Update Required
To play the media you will need to either update your browser to a recent version or update your
Flash plugin
.
PARTNERS
FEATURED EVENTS