Search Results
This week on
Fuhmentaboudit!
, hosts Mary Izett and Chris Cuzme kick off the show with some upcoming beertastic events (and announce plans for their own brew!) before welcoming guests Peter Salmond and Oskar Norlander. Peter and Oskar are the recent winners of Homebrew Alley Sour Category, and actually swept first, second, and third places out of 35 entrees! Their Gueuze, American Stout, and Fruit Lambics were hits at Homebrew Alley and share with Chris and Mary that their recipes remain pretty basic though they have changed their mashes. Talking brewing details, the guys talk their techniques then relay thoughts on the results of the recent competition. Oskar and Peter also chat about how they came to decide the fruits used for their fruit lambics, like passion fruit, and take the hosts through their thoughts behind their award-winning Gueuze. Tune in for more insider details from Peter and Oskar and a great recap of Homebrew Alley! This program was brought to you by
GreatBrewers.com
.
"We've done a couple of batches and the last few were the first ones we really started talking technique; what have we done, what can we do differently, how we can do better. This last batch we really pushed the temperature and that really made a difference." [11:28]
"When we got the frozen [passion fruit] puree we opened it up... and it just immediately just smelled so good, and we tasted it and it's tart and sweet and aromatic and fruity - everything I never had in a sour beer and everything I wanted in a sour beer." [24:55]
--Peter Salmond on Fuhmentaboudit!
Update Required
To play the media you will need to either update your browser to a recent version or update your
Flash plugin
.
Jump to Segment:
Tags:
Fuhmentaboudit
,
Chris Cuzme
,
Mary Izett
,
Peter Salmond
,
Oskar Norlander
,
keg
,
barrel
,
brewing
,
brew
,
fermenting
,
mash
,
gueuze
,
American Stout
,
fruit lambic
,
Homebrew Alley
,
sour
,
cider
,
passion fruit
,
blueberry
,
temperature
,
bottle
,
extraction
,
technique
,
Hear the story of B United on a special episode of
Beer Sessions Radio
. Jimmy Carbone is joined by one of his heros, Matthias Neidhart, who started B. United International in 1994 and focused on importing specialty beers to fill an unmet niche market. B. United's portfolio includes some of the world's classic beers, including offerings from George Gale, J.W. Lee's, Brasserie d'Achouffe, and Brauerei Heller Trum. Aside from offering classic beers from Malta, Italy, Belgium, and beyond, B. United also imports a range of meads, ciders, and sakes. Jimmy's also joined by Justin Philips of Beer Table Pantry, Michael Opalenski, B. United Rep and Zack Kinney, Homebrew Alley IX 2015. This program was brought to you by
Union Beer Distributors
.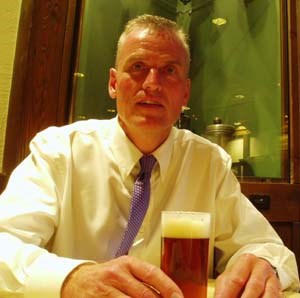 "What I'm looking for [in a beer] is overall balance. It has got to be pleasing to me. I'm very open to things that taste ... very unusual, that I might not have tasted before." [13:00]
--Matthias Neidhart on Beer Sessions Radio
Update Required
To play the media you will need to either update your browser to a recent version or update your
Flash plugin
.
Jump to Segment:
Tags:
B United
,
Michael Jackson
,
aging beer
,
Matthias Neidhart
,
smoked beer
,
beer sales
,
Beer Sessions Radio
,
Jimmy Carbone
,
beer
,
GreatBrewers.com
,
breweries
,
beverage industry
,
craft beer
,
Italian beer
,
Belgian beer
,
draft beer
,
Justin Phillips
,
Beer Table Pantry
,
Michael Opalensky
,
Zack Kinney
,
Homebrew Alley
,
Tags:
B United
,
Michael Jackson
,
aging beer
,
Matthias Neidhart
,
smoked beer
,
beer sales
,
Beer Sessions Radio
,
Jimmy Carbone
,
beer
,
GreatBrewers.com
,
breweries
,
beverage industry
,
craft beer
,
Italian beer
,
Belgian beer
,
draft beer
,
Justin Phillips
,
Beer Table Pantry
,
Michael Opalensky
,
Zack Kinney
,
Homebrew Alley
,
PARTNERS
FEATURED EVENTS