Search Results
Hear the story of B United on a special episode of
Beer Sessions Radio
. Jimmy Carbone is joined by one of his heros, Matthias Neidhart, who started B. United International in 1994 and focused on importing specialty beers to fill an unmet niche market. B. United's portfolio includes some of the world's classic beers, including offerings from George Gale, J.W. Lee's, Brasserie d'Achouffe, and Brauerei Heller Trum. Aside from offering classic beers from Malta, Italy, Belgium, and beyond, B. United also imports a range of meads, ciders, and sakes. Jimmy's also joined by Justin Philips of Beer Table Pantry, Michael Opalenski, B. United Rep and Zack Kinney, Homebrew Alley IX 2015. This program was brought to you by
Union Beer Distributors
.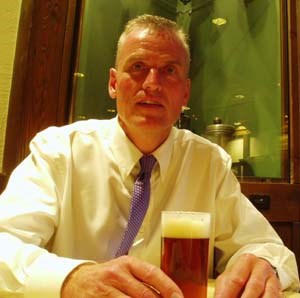 "What I'm looking for [in a beer] is overall balance. It has got to be pleasing to me. I'm very open to things that taste ... very unusual, that I might not have tasted before." [13:00]
--Matthias Neidhart on Beer Sessions Radio
Update Required
To play the media you will need to either update your browser to a recent version or update your
Flash plugin
.
Jump to Segment:
Tags:
B United
,
Michael Jackson
,
aging beer
,
Matthias Neidhart
,
smoked beer
,
beer sales
,
Beer Sessions Radio
,
Jimmy Carbone
,
beer
,
GreatBrewers.com
,
breweries
,
beverage industry
,
craft beer
,
Italian beer
,
Belgian beer
,
draft beer
,
Justin Phillips
,
Beer Table Pantry
,
Michael Opalensky
,
Zack Kinney
,
Homebrew Alley
,
Tags:
B United
,
Michael Jackson
,
aging beer
,
Matthias Neidhart
,
smoked beer
,
beer sales
,
Beer Sessions Radio
,
Jimmy Carbone
,
beer
,
GreatBrewers.com
,
breweries
,
beverage industry
,
craft beer
,
Italian beer
,
Belgian beer
,
draft beer
,
Justin Phillips
,
Beer Table Pantry
,
Michael Opalensky
,
Zack Kinney
,
Homebrew Alley
,
PARTNERS
FEATURED EVENTS