Search Results
This week on Greenhorns Radio Sev speaks to agro-ecologist Houston Wilson. Wilson discusses the primary goal of his science: eliminating "off farm" input. This essentially means designing your farm in a way that encourages nature to do the tasks we often leave up to chemicals or people. With enough crop diversification farmers will find that controlling pests, nutrient cycling, and dealing with diseases can all be executed internally if the farm is designed appropriately. This episode was sponsored by Hearst Ranch: purveyors of fine grass-fed beef from the coasts of CA.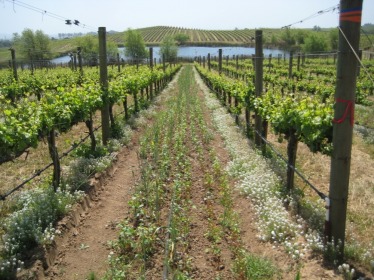 Photo 1: The Altieri Lab at UC Berkeley has been conducting cutting edge research in vineyard agroecology over the past decade. Recent efforts focus on the management of non-crop vegetation to enhance the natural regulation of key insect pests in vineyards. We strive to conduct comprehensive research spanning landscape-level dynamics to specific within-field insect interactions. We also believe in the importance of collaborating with growers to conduct research in real-world settings where the system designs that we are developing will be employed.
This week on The Speakeasy, Damon sits and chats with the ladies of
Speed Rack.
Speed Rack is a competition created for and by female bartenders to promote female bartenders. Hear from Ivy Mix, Lynette Marrero & Claire Bertin-Lang as they preview the upcoming competition on May 10th, 2012. Find out how intense the competition gets and what to expect from a room full of the most skilled women bartenders in the world! This program was sponsored by
White Oak Pastures
.
"This cocktail community spreads across the nation. We can all drop into any city and work with somebody." --Lynette Marrero of Speed Rack on The Speakeasy
Update Required
To play the media you will need to either update your browser to a recent version or update your
Flash plugin
.
Jump to Segment:
A bar and restaurant that gives all of its profits away doesn't sound like a good business model. But on today's episode of Good Food with Daniel Meyer, Nick Vilelle is talking about how he is doing just that with his Washington D.C. 'philanthropub', Cause. Tune in to hear how Nick and his business partner figured out a way to create a bar and restaurant that donates its profit margins to charitable organizations. To what organizations does Cause give donations, and who decides where they donate? Hear why Cause also finds it important to focus on quality and service in addition to their philanthropic endeavors. Nick's background in non-profit work didn't prepare him for the restaurant business; who helped Nick on the restaurant-side of the business? Have any other bars or restaurants taken up Cause's model? Find out all of this and more on this installment of Good Food! Thanks to our sponsor,
Hearst Ranch
, and thanks to
The California Honeydrops
for today's music.
"At the end of the night, you get the bill and decide what charitable organization the profits from your meal go to." [8:20]
-- Nick Vilelle on Good Food
Update Required
To play the media you will need to either update your browser to a recent version or update your
Flash plugin
.
Jump to Segment:
Tags:
Nick Vilelle
,
philanthropub
,
Cause
,
Washington D.C.
,
bar
,
restaurant
,
locally-sourced
,
charity
,
profit
,
charitable organizations
,
transparent
,
diversity
,
food
,
drinks
,
service
,
opening a restaurant
,
small businesses
,
non-profit
,
beer
,
quinoa
,
lentil
,
greek yogurt
,
Adam Stein
,
mushroom and oat burger
,
vegetarian
,
Tags:
George Mason University
,
West Africa
,
Peace Corps
,
academic
,
open source
,
crowd funding
,
bar stool
,
community
,
Houston
,
Melbourne
,
Portland
,
upstart
,
awareness
,
involvement
,