Search Results
This week on A Taste of the Past we take a trip to the Abbey of Fecamp in Normandy where the Benedictine monk Dom Bernardo Vincelli created the liqueur Benedictine in the 16th century. With the help Benedictine brand ambassador Martin Duffy, learn all about the history of this ancient libation as well as some delicious holiday drinks that will keep you warm all winter long. This episode is sponsored by
Heritage Foods USA
"Putting a little Benedictine in your hot chocolate is sure to 'warm your cockles'." --Martin Duffy on A Taste of the Past
Update Required
To play the media you will need to either update your browser to a recent version or update your
Flash plugin
.
Jump to Segment:
Tags:
Fecamp
,
hot toddy
,
Benedictine liqueur
,
Martin Duffy
,
Dom Bernardo Vincelli
,
fermented beverages
,
distillation
,
alchemy
,
Benedictine order
,
elixir
,
crusades
,
Normandy
,
King Francois
,
hermetic philosophy
,
Alexandre Le Grand
,
Palace at Fecamp
,
Tags:
UK
,
Burnley Miners Club
,
cinnamon
,
clove
,
whiskey
,
Hemingway
,
21 Club
,
Brandy
,
B&B
,
Tom Collins
,
What spirit were the Three Musketeers drinking back in the 17th century? Armagnac! On this episode of A Taste of the Past, Linda Pelaccio is joined in the studio by David Lincoln Ross, a food writer and armagnac expert. Learn about the ancient roots of the spirit in Egypt, and the differences between cognac and armagnac. Learn about the regional grapes used to make traditional armagnacs, and the importance of oak from the Mon Lunzon forest in the aging process. How does one choose a bottle of armagnac? Learn about the different characteristics of armagnac that can be used to determine what quality spirit to buy. How does armagnac pair with food? Learn about the culinary landscape of Gascony, France, and how armagnac plays a significant role in its food culture. This program has been brought to you by
Cain Vineyard & Winery
.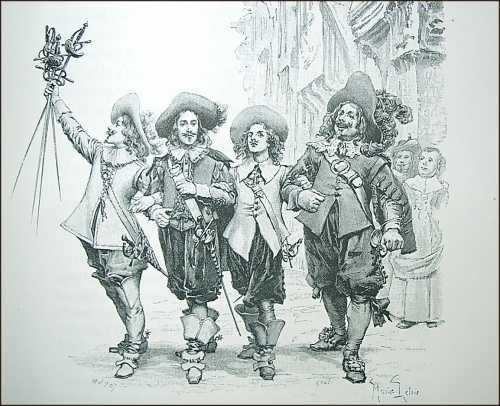 "Cognac, in the most simple terms, is distilled twice. It yields a more refined spirit with a higher level of alcohol when it comes out of the still. It's called double distillation. Armagnac has a simpler or continuous distillation process so the spirit that comes out after the distillation process is at a lower proof, but because it has only been distilled once, it has a more fragrant and flavorful result." [6:40]
-- David Lincoln Ross on A Taste of the Past
Update Required
To play the media you will need to either update your browser to a recent version or update your
Flash plugin
.
Jump to Segment:
Tags:
The Three Musketeers
,
brandy
,
Armagnac
,
David Lincoln Ross
,
food writer
,
The Daily Beast
,
Forbes
,
Gourmet Magazine
,
Gascony
,
D'Artagnan
,
heritage
,
distillation
,
cosmetics
,
medicine
,
Pyrenees
,
spirit
,
rapier's thrust
,
oak cask
,
Mon Lunzon
,
flavor
,
color
,
natural
,
grape
,
picpoul
,
acidic
,
wine
,
Alexandre Dumas
,
sword thrust
,
cocktail
,
champagne flutes
,
sparkling wine
,
Tags:
quality
,
barrel
,
vintage
,
palate
,
VS
,
VSOP
,
regions
,
alchemy
,
alcohol
,
the Moors
,
after dinner
,
unctuous
,
leg of lamb
,
main course
,
garbure
,
prune
,
foie gras
,
nuts
,
duck
,
fat
,
confit
,
culinary historian
,
tasting
,
tour
,
Culinary Historians of New York
,
PARTNERS
FEATURED EVENTS