Search Results
Clare Sullivan of Feedback Farms is currently the Environmental Coordinator of the Millennium Village project in the Tropical Agriculture and rural Environment Program of Columbia University. Before that she worked in a variety of capacities in the food service industry - running a collective bakery in St. Louis, working as a pastry chef in New York and doing agricultural research at the International Potato Center in Lima, Peru. Clare is also a serial crew leader for the Student Conservation Association and has served on it's advisory board. She has M.A. in International Affairs with a focus on Environmental Policy from Columbia University's School of International and Public Affairs and a B.A. in Political Science from Washington University in St. Louis. Thanks to our sponsor,
Heritage Foods USA
.
"That's the neat thing about urban gardens- there's so many intersections with the communities that surround them." [6:00]
-- Clare Sullivan on Greenhorn Radio
Update Required
To play the media you will need to either update your browser to a recent version or update your
Flash plugin
.
Today on U Look Hungry, host Helen Hollyman is in New Orleans to talk with Brian Bordainick about The Dinner Lab, a consumer dining experience that brings together up and coming chefs, and an exclusive membership for those interested in exploring innovative ideas in food to unique spaces that would never otherwise be known to the public. Officially launched in three cites, Nashville, Austin, and New Orleans, the goal of The Dinner Lab is to serve as a culinary and social experiment, and create a singular event that only exists for one evening, combined with the best culinary talent and the most diverse guests possible. With a completely unique idea that combines the playful idea of "people meeting new people," The Dinner Lab inevitably encourages those who attend to speak with their table mates, talk, and get to know one another. Bringing together people of all ages, The Dinner Lab is an interesting concept that ties all members through one aspect - great food, and good company. To join and learn more about future events, visit the
Tekserve.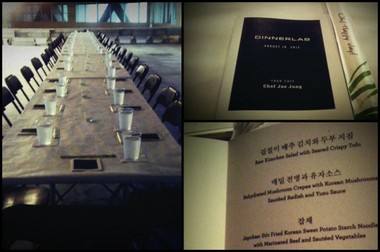 "The people that come out to our experiences are looking for something different." [13:20]
"At the end of the day, we provide an amazing customer experience - listen to our users or you have none." [40:02]
-- Brian Bordainick on U Look Hungry
Update Required
To play the media you will need to either update your browser to a recent version or update your
Flash plugin
.
Jump to Segment:
Tags:
Brian Bordainick
,
The Dinner Lab
,
Nashville
,
Austin
,
New Orleans
,
Ethiopian
,
food
,
creole
,
diversity
,
entree
,
pig roast
,
exploration
,
social
,
demographic
,
Tags:
feedback
,
Korean food
,
restaurants
,
chefs
,
athletes
,
sports
,
oversupply
,
sous chef
,
space
,
old churches
,
family style
,
This week on Taste Matters, Mitchell Davis chats with two world renowned North American chefs - Mark Ladner of Del Posto and Jonathan Gushue of Langdon Hall Country House Hotel and Spa. Tune in for a conversation on the causalization of both the restaurant scene and the world at large. What does service mean in 2012? How has modern fine dining adapted to the anti-white tablecloth movement? Hear their thoughts on these issues and also learn more about the upcoming
Relais & Chateaux Grand Chefs Dinner.
This program was sponsored by
S. Wallace Edwards & Sons
.
"Amenities seem to have fallen by the wayside. People realize they can have great delicious dining experiences without the trapping of service. It's somewhat disappointing, but also an interesting challenge to try and re-instill some of these values."
--chef Mark Ladner on Taste Matters
"Whatever the guest wants, the guest gets. That's the true guest experience."
--chef Jonathan Gushue on Taste Matters
Update Required
To play the media you will need to either update your browser to a recent version or update your
Flash plugin
.
Jump to Segment:
Tags:
Mark Ladner
,
Del Posto
,
Relais
,
Chateaux Grand Chefs Dinner
,
modern fine dining
,
counter culture
,
Jonathan Gushue
,
Langdon Hall Country House Hotel and Spa
,
hipster culture
,
service
,
guest experiences
,