Search Results
Published August 25th, 2014
Running time: 3 Minutes
By Erin Fairbanks
How can an earthquake impact soil and soil quality? We checked in with Alice Marcus Kreig co-owner of Groundworks a garden design, installation and maintenance firm and co-host of We Dig Plants on HRN. Alice, knows soil—in fact, Groundworks produces and sells their own soil mix aptly named "Brooklyn Blend." Tune in here for more.
Update Required
To play the media you will need to either update your browser to a recent version or update your
Flash plugin
.
This week on Chef's Story, Dorothy Cann Hamilton continues her conversation with acclaimed chef Dan Barber. They have an in-depth conversation on GMO's and technology in food. Dan is the co-owner and executive chef of Blue Hill and Blue Hill at Stone Barns, and the author of the forthcoming book, The Third Plate (May 2014, The Penguin Press). His opinions on food and agricultural policy have appeared in the New York Times, along with many other publications. Appointed by President Barack Obama to serve on the President's Council on Physical Fitness, Sports and Nutrition, Dan continues the work that he began as a member of Stone Barns Center for Food and Agriculture's board of directors: to blur the line between the dining experience and the educational, bringing the principles of good farming directly to the table. Barber has received multiple James Beard awards including Best Chef: New York City (2006) and the country's Outstanding Chef (2009).In 2009 he was named one of Time magazine's 100 most influential people in the world. This program was brought to you by
Heritage Foods USA.
"GMO technology is really advanced in that you can take DNA from another species and just insert it." [22:00]
"In the future, I would like to become better acquainted with nature's functioning and how to describe and promote it better and I don't think it's through interventions of technology." [32:00]
"Really truly great flavor only arises out of interconnectiveness of a whole place." [33:00]
--Dan Barber on Chef's Story
Update Required
To play the media you will need to either update your browser to a recent version or update your
Flash plugin
.
Jump to Segment:
Tags:
GMOs
,
stem cells
,
science
,
technology
,
genetics
,
drip irrigation
,
water
,
drought
,
agriculture
,
food politics
,
monoculture
,
soil
,
food systems
,
ecological systems
,
3D food
,
food fads
,
food trends
,
Dan Barber
,
Blue Hill at Stone Barns
,
Chef's Story
,
Dorothy Cann Hamilton
,
culinary education
,
chefs
,
memoirs
,
apprenticeship
,
training
,
advice
,
restaurant industry
,
restaurants
,
kitchens
,
cooking
,
protein
,
How is farming tied to carbon and how does carbon keep life on earth possible? Find out on a very elemental and scientific episode of
The Farm Report
as host Erin Fairbanks is joined by Courtney White, the author of Grass, Soil, Hope. A former archaeologist and Sierra Club activist, White dropped out of the 'conflict industry' in 1997 to co-found the Quivira Coalition, a nonprofit dedicated to building bridges between ranchers, conservationists, public land managers, scientists, and others around the idea of land health. On today's show, Courtney explains what makes carbon such an essential part of the soil (and the earth) and introduces some alternative methods of farming that could help bring more carbon into our soil. The answer is biological farming - not chemical farming, and Courtney makes a clear case for out of the box thinking when it comes to our land and soil. Tune in and learn about the real issues in the ground and on the minds of sustainable agricultural thinkers everywhere. This program was brought to you by
Cain Vineyard & Winery
.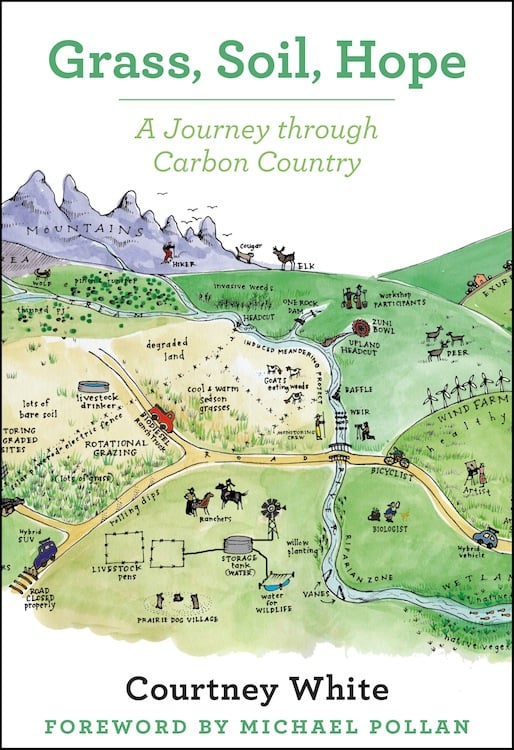 "How carbon gets cycled is extremely important to maintaining life on this planet!" [02:45]
"We want biological farming not chemical farming." [05:16]
"If we want to store more carbon we have to stop killing the fungi in the soil." [07:36]
"If you have a practice that increases plant vigor and makes plants happy, you're storing more carbon in the soil." [12:40]
"Changes start in the margin, ideas start on the outside and move in over time...but how do you get them to speed up that journey to the center? That's tough. We need policy changes and we have such a dysfunctional political system right now" [20:42]
--Courtney White on The Farm Report
Update Required
To play the media you will need to either update your browser to a recent version or update your
Flash plugin
.
Jump to Segment:
Tags:
Courtney White
,
carbon
,
carbon based lifeforms
,
tilling soil
,
ranchers
,
conservationists
,
grazing
,
ranching
,
fungi
,
no till farming
,
cover cropping
,
pasture cropping
,
solar panels
,
climate change
,
policy
,
The Farm Bill
,
water
,
rooftop farming
,
land literacy
,
The Farm Report
,
Erin Fairbanks
,
agriculture
,
sustainability
,
food
,
food policy
,
activism
,
Heritage Radio Network
,
farming
,
farms
,
environment
,
PARTNERS
FEATURED EVENTS