Search Results
This week's Q Report theme is ORIGINS: Will and Robby challenge man versus machine,Nach Waxman talks about store closings, Mark Marabella, Ed Grant and Dr. David Deamer discuss the origin and definition of life as we know it. Miss Manners is introduced
Update Required
To play the media you will need to either update your browser to a recent version or update your
Flash plugin
.
Jump to Segment:
This week The Naturalist gets real about evolution. Did you know that on an international scale that the U.S. only stands above Turkey with only 40% of our entire population believing in evolution? With the help of friend and director of the Hudson River Audobon Society, Saul Scheinbach, host Bernie Wides shines a scientific light on why Americans and people around the world are still uncomfortable about evolution and yet how Darwin's theory is continuing to be proven true 150 years later. Learn what exactly the terms theory, species, natural selection mean as well as the differences between allopatric and simpatric speciation. This episode is sponsored by
S. Wallace Edwards & Sons
.
"In the United States 40% think evolution is true, 40% think its false, and 20% say they don't know."
"There is nothing in biology that we see that is outside of [Darwin's] theory and it's been 150 years since he has published it."
"In many ways [humans] are not special and that is why so many people resist Darwin's theory"
"In Darwin's theory of natural selection God had no place at all and that's why he sat on his theories for so long."
"Chance plays a big role in evolution and that's why people don't like the idea of evolution."
Saul Scheinbach on The Naturalist
Update Required
To play the media you will need to either update your browser to a recent version or update your
Flash plugin
.
Jump to Segment:
Tags:
The Naturalist
,
Bernie Wides
,
Huson River Audobon
,
evoulution
,
Darwin
,
The Origin of the Species
,
The Rite of Spring
,
Igor Stravinsky
,
Charles Darwin
,
intelligent design
,
theory
,
gravity
,
natural selection
,
subatomic
,
quantum physics
,
species
,
what is a species
,
hybrids
,
mules
,
sterile
,
how do new species form
,
Grand Canyon
,
genetics
,
allopatric speciation
,
simpatric speciation
,
chance
,
randomness
,
Saul Scheinbach
,
Tags:
chance in evolution
,
egocentric
,
Galileo
,
Copernicus
,
Human Genome Project
,
gene sequencing
,
we are not special
,
God
,
DNA
,
Watson & Crick
,
Nature
,
art and science
,
three spines stickleback
,
adaptations
,
european corn borer
,
moth
,
mugwort
,
assortative mating
,
sockeye salmon
,
Lake Washington
,
This week on Greenhorns Radio Sev speaks to agro-ecologist Houston Wilson. Wilson discusses the primary goal of his science: eliminating "off farm" input. This essentially means designing your farm in a way that encourages nature to do the tasks we often leave up to chemicals or people. With enough crop diversification farmers will find that controlling pests, nutrient cycling, and dealing with diseases can all be executed internally if the farm is designed appropriately. This episode was sponsored by Hearst Ranch: purveyors of fine grass-fed beef from the coasts of CA.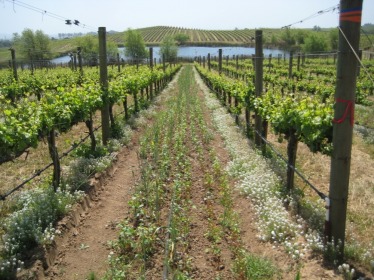 Photo 1: The Altieri Lab at UC Berkeley has been conducting cutting edge research in vineyard agroecology over the past decade. Recent efforts focus on the management of non-crop vegetation to enhance the natural regulation of key insect pests in vineyards. We strive to conduct comprehensive research spanning landscape-level dynamics to specific within-field insect interactions. We also believe in the importance of collaborating with growers to conduct research in real-world settings where the system designs that we are developing will be employed.