Search Results
This week on A Taste of the Past, Linda Pelaccio talks about the history of ramen in Japan and the United States with George Solt, author of
The Untold History of Ramen
. Tune into this episode to learn how international relations and trade agreements allowed ramen to evolve in Japan using non-traditional ingredients. How do ramen noodles different from other Japanese noodle soups like soba? How did ramen preparations change in order to satisfy the caloric needs of the Japanese population. Tune into this program to learn more about the first instances of instant ramen, ramen museum, and the dish's nutritional value! Are ramen shops in Japan as popular as their equivalents in the United States today? Tune in to find out! Thanks to our sponsor,
S. Wallace Edwards & Sons
. Music by
Pamela Royal
.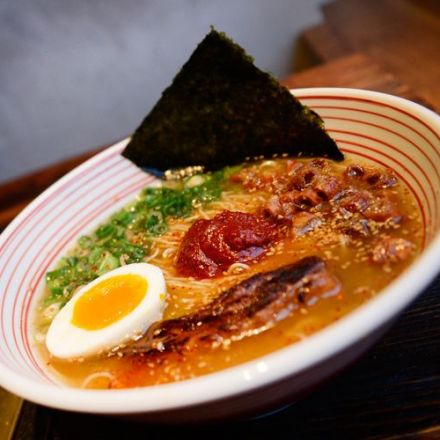 "Until the introduction of Western food culture en mass in the 19th Century, the Japanese didn't eat much meat; it was much more of fish and vegetable type of eating culture... It shows how politics, international relations, and trade affect food culture." [6:50]
"The pushcart is really the site that the ramen phenomenon came from." [9:20]
-- George Solt on A Taste of the Past
Update Required
To play the media you will need to either update your browser to a recent version or update your
Flash plugin
.
Jump to Segment:
Tags:
George Solt
,
Japan
,
ramen
,
NYU
,
Japanese history
,
economy
,
Chinese Food
,
trade
,
wheat
,
rice
,
occupation
,
dietary habits
,
food cart
,
soba
,
General MacArthur
,
famine
,
food vendors
,
World War II
,
alkali noodles
,
The Untold History of Ramen
,
instant ramen
,
Tokyo
,
miso
,
pork
,
carbohydrates
,
cold ramen
,
PARTNERS
FEATURED EVENTS