Search Results
This week on
Native
, host Briana Kurtz takes us all the way to Queens, NY and welcomes expert blogger of
Jeffrey Tastes
, and the unofficial Queens Ambassador, Jeff Orlick, to the show. Jeff loves the five boroughs, but is especially interested in Queens and explores its cultures, talks to the people, and eats the food, all with the goal to inspire others to eat fearlessly and explore endlessly as well. Talking to Briana about the great eats of the neighborhood as well as a real account of the Queens atmosphere, the discussion eventually turns to food permits for vendors in the area. At the tail end of the show, Jeff shares information about the
Viva la Comida! Festival
coming up that highlights the culture of New York City and Queens, combining food with music, art, dancing, entertainment, and much more. This program was brought to you by
Cain Vineyard & Winery
.
"We [Queens] has all these cultural enclaves, which makes it different from many other places in the world." [3:10]
"That's why I moved there, because it's always changing - it's very interesting." [7:35]
--Jeff Orlick on Native
Update Required
To play the media you will need to either update your browser to a recent version or update your
Flash plugin
.
Jump to Segment:
Tags:
Native
,
Briana Kurtz
,
Jeff Orlick
,
Queens
,
culture
,
Viva la Comida
,
festival
,
food
,
vendors
,
permit
,
This week on A Taste of the Past, Linda Pelaccio talks about the history of ramen in Japan and the United States with George Solt, author of
The Untold History of Ramen
. Tune into this episode to learn how international relations and trade agreements allowed ramen to evolve in Japan using non-traditional ingredients. How do ramen noodles different from other Japanese noodle soups like soba? How did ramen preparations change in order to satisfy the caloric needs of the Japanese population. Tune into this program to learn more about the first instances of instant ramen, ramen museum, and the dish's nutritional value! Are ramen shops in Japan as popular as their equivalents in the United States today? Tune in to find out! Thanks to our sponsor,
S. Wallace Edwards & Sons
. Music by
Pamela Royal
.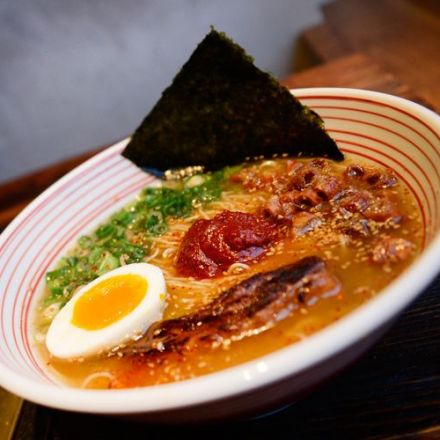 "Until the introduction of Western food culture en mass in the 19th Century, the Japanese didn't eat much meat; it was much more of fish and vegetable type of eating culture... It shows how politics, international relations, and trade affect food culture." [6:50]
"The pushcart is really the site that the ramen phenomenon came from." [9:20]
-- George Solt on A Taste of the Past
Update Required
To play the media you will need to either update your browser to a recent version or update your
Flash plugin
.
Jump to Segment:
Tags:
George Solt
,
Japan
,
ramen
,
NYU
,
Japanese history
,
economy
,
Chinese Food
,
trade
,
wheat
,
rice
,
occupation
,
dietary habits
,
food cart
,
soba
,
General MacArthur
,
famine
,
food vendors
,
World War II
,
alkali noodles
,
The Untold History of Ramen
,
instant ramen
,
Tokyo
,
miso
,
pork
,
carbohydrates
,
cold ramen
,
This week's guests: Martha Hoover & Chef Nira Kehar.
Having never waited tables, never cooked professionally or in any way worked in a restaurant, Martha Hoover has created a successful group of dining establishments—Cafes Patachou, Petite Chou by Patachou, Napolese Artisanal Pizzeria and Wine Bar, GELO Dolce Bar, Public Greens Urban Kitchen Garden and Grill and Patatruck Mobile Patachou Kitchen. The restaurants reflect her lifelong passion for food and ingredients of excellent quality, as well as a joie de vie. All the concepts are cherished neighborhood destinations, serving dishes made with the highest quality ingredients in the freshest preparation methods possible. Their walls are filled with art, music floats above the buzz of the diners and an urban energy reverberates that is the direct result of her vision. When Hoover opened Café Patachou, her goal was to prepare the best "simple" food using high quality ingredients. This was quite a novel approach in 1989. Vendors said that it was a mistake to roast our own meat and make homemade bread because cheaper, yet inferior, alternatives were available. The standard in the local industry deemed that strict quality standards were not necessary for success in this market. Immediately, customers noted the difference between Café Patachou and other breakfast/ lunch restaurants and that has been the key to the success of the entire company. Patachou, Inc. has purposefully grown slowly over the past twenty years. Hoover is a hands-on owner who is truly active in the business assuring the adherence to exacting standards and attention to every detail.
"I grew up with this family mantra that all the great food in the world starts and ends in New York." [04:00]
"I don't think I told our story enough early enough. It just didn't strike a chord with enough people." [09:00]
--Martha Hoover on Radio Cherry Bombe
Born and raised in Montreal, Nira Kehar's culinary adventures began with imbibing her mother's skills in the kitchen. She traded a career in engineering to train at the prestigious ITHQ (Institut de Tourisme et d'Hôtellerie du Québec), Canada's premier culinary institute. Chapter three was moving to India six years ago, where she began to give life to her creative vision (preceded by a grueling few months in the Maurya Kitchens). Driven by her desire to please and excite the palate, Chef Nira's approach combines fresh, seasonal produce with a range of global cooking techniques, loved by the food community and critics alike. This year, along with the James Beard foundation event, she is busy experimenting and evolving her sister brand, Atelier Nini.
"I'm privileged in that the worst thing that ever happened to me is the best thing that ever happened to me." [27:00]
"Food is like a living organism it has its own moods and freaky things that happen to it." [33:00]
--Nira Kehar on Radio Cherry Bombe
Update Required
To play the media you will need to either update your browser to a recent version or update your
Flash plugin
.
Jump to Segment:
Tags:
Radio Cherry Bombe
,
women in food
,
food
,
Julia Turshen
,
New York City
,
recipes
,
law
,
opening a restaurant
,
field greens
,
Indianapolis
,
Public Greens
,
public green space
,
entrepreneurship
,
food insecurity
,
dietary education
,
Chef Nira Kehar
,
Montreal
,
global cuisine
,
art
,
mindfulness
,
Yoga
,
spirituality
,
nature
,
natural ingredients
,
PARTNERS
FEATURED EVENTS