Welcome to another episode of Beer Sessions Radio, hosted by Jimmy Carbone. Tony Forder and Jack Babbin from Ale Street News are here to celebrate the beer magazine's 20th Anniversary. Tune in to hear about the first few issues of Ale Street News, some of the events they have covered over the years, and the role of homebrewing in the success of their publication. Sam Barbieri of Waterfront Ale House is also in the studio talking about some of the beers on tap at Waterfront and the capacity of California craft brewers. The guys from Ale Street News bring over a biodegradable "Crafty Carton", an alternative to a growler for bringing craft beer home from the bar. Tune in as everyone tastes some delicious pilsners and IPAs! Thanks to our sponsor,
GreatBrewers.com
.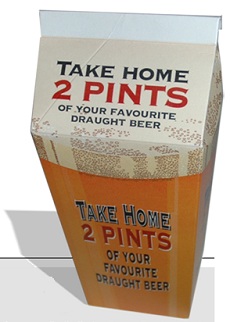 "This whole beer movement started because of homebrewers. There were so many cookie-cutter beers that tasted the same, and these guys were making beer that tasted great." -- Sam Barbieri on Beer Sessions Radio
"Quality has to be the focus, but passion is the main ingredient." -- Jack Babbin on Beer Sessions Radio
Update Required
To play the media you will need to either update your browser to a recent version or update your
Flash plugin
.
Jump to Segment:
Tags:
Ale Street News
,
Tony Forder
,
Jack Babbin
,
make your own beer
,
craft beer
,
homebrewing
,
beer magazine
,
journalism
,
Celebrator
,
East Coast beer scene
,
sales
,
marketing
,
The Internet
,
social media
,
Charlie Papazian
,
Brooklyn Brewery
,
microbreweries
,
Waterfront Ale House
,
Sam Barbieri
,
New York
,
Sierra Nevada
,
Anchor Brewing Co.
,
Imperial Pilsner
,
Boston Brewers' Festival
,
quality
,
Brazilian beer
,
Tags:
20th Anniversary Ale Street News
,
Homebrewers Convention
,
Greg Ziccardi
,
Mountain Valley
,
Richie Stolarz
,
Great British Beer Festival
,
Young's Brewery
,
Michael Jackson
,
Young's Pub
,
Belgium
,
German styles
,
Belgian beers
,
complexity
,
aging
,
Great American Beer Festival
,
American Brewers' Association
,
beer categories
,
world class beers
,
microbreweries
,
brew pubs
,
Steve Hindy
,
craft brewing
,
IPA
,
fruity
,
hoppy
,
malt
,
saison
,
summer ales
,
rosemary
,
local beers
,
Sixpoint
,
Kelso
,
Bluepoint
,
Greenport Harbor
,
Carton
,
Barrier
,
Good Beer Seal
,
Tags:
Carton Taking Over the World
,
Carton vs. Growler
,
milk carton
,
biodegradable
,
crafty carton
,
spontaneous
,
growler
,
liter bottles
,
pint glass
,
bartenders
,
draft craft beer
,
Tap Takeover
,
drinking and driving
,
four pack carry
,
Schneider Weisse Brewing
,
gravity keg
,
German beer
,
pinot noir
,
ice bock
,
malt
,
Strasbourg Beer Festival
,
Good Beer Month
,
Jimmy's No. 43
,
Alesmith
,
Dogfish Head
,
Captain Lawrence
,
blog comments powered by

Disqus