Erin Fairbanks is back for another episode of The Farm Report! On this week's installment, Erin is talking with Sandor Katz, author of the new book The Art of Fermentation. Fermentation is happening all around us: in our food products and in the life cycle! Tune in to hear Erin and Sandor talk about the differences between anaerobic and aerobic composting systems. Sandor also addresses 'the war on bacteria' and the fears that come with fermenting foods at home, stating that there has never been a reported case of food poisoning from fermented vegetables. Hear about a study that shows no health benefit difference between traditional yogurt and its specialized brand name "pro biotic" counterparts. Did you know that fermented urine is a good fertilizer and household cleaner? Learn how fermentation creates a more stable, value-added product. This program has been brought to you by
Hearst Ranch
.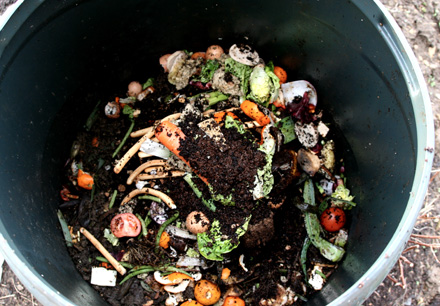 "Fermentation is absolutely essential to agriculture, and even the bigger picture than agriculture- if we're thinking about the cycles of life and death- is the cycle of life, death, and fermentation."
"Because of the flexibility of bacterial genetics, a single strain will never be as powerfully beneficial to us as eating a variety of different kinds of foods that have their own indigenous bacterial populations." -- Sandor Katz on The Farm Report
Update Required
To play the media you will need to either update your browser to a recent version or update your
Flash plugin
.
Jump to Segment:
Tags:
The Art of Fermentation
,
Sandor Katz
,
beer
,
wine
,
bread
,
fish sauce
,
soy sauce
,
pickle
,
fermentation
,
compost
,
farming
,
gardening
,
cultures
,
agriculture
,
decomposition
,
micro organisms
,
anaerobic
,
alcohol
,
lactic acid
,
kombucha
,
vinegar
,
oxygen
,
soil fertility
,
large farms
,
heat in compost
,
metabolism
,
compost fire
,
Fresh Kills Landfill
,
the war on bacteria
,
e coli
,
lactic acid fermentation
,
pathogens
,
pro biotic
,
yogurt
,
bacteria
,
intestines
,
sauerkraut
,
proprietary strains of bacteria
,
live culture foods
,
immune system
,
Tags:
fermenting urine
,
disposal
,
nutrients
,
excrement
,
nitrogen
,
fertilizing soil
,
aged urine
,
ammonia fermentation
,
alkaline
,
ammonia
,
lant
,
silage
,
acids
,
hay
,
winter forage
,
sauerkraut
,
value-added product
,
wine
,
cheese
,
small business
,
product consistency
,
consistency
,
fresh
,
quality
,
apple cider
,
produce
,
cucumber pickles
,
brine
,
dumpster diving
,
meat and fish ferment
,
workshops
,
classes
,
wildfermentation.com
,
blog comments powered by

Disqus