We've got another packed house this week on Beer Sessions Radio. Host Jimmy Carbone is joined by frequent guests Dave Brodrick and Jen Schwertman from Blind Tiger. Also in the studio is David Yarrington, director of brewing operations from Smuttynose. The Shelton Bros. importers are represented by Joel Shelton and BR Royla, and Sebastian Sauer and Peter Essel are here from Germany for Freigeist. Finally, we've got Ted Kenny, owner of Top Hops bottle shop in the Lower East Side. Tune in to hear discussions about the state of German beer. Freigeist has been experimenting with all sorts of styles, from Belgian to American, creating something completely unique. David Yarrington talks about his start in the beer industry, as well as the upcoming move for Smuttynose's brewery. We've got call-in questions and inquiries from Twitter, so tune in! This episode has been brought to you by
GreatBrewers.com
.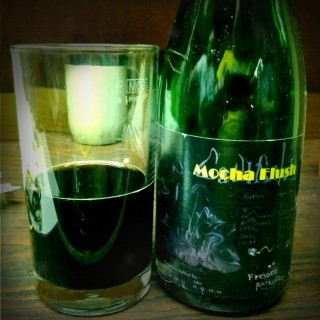 "There's a lot of dying out of the breweries in Germany. Germany used to have a lot of breweries, and nowadays they all produce less than they did years ago. But they don't understand why they're losing so much. They see themselves as the victim." -- Sebastian Sauer on Beer Sessions Radio
"The brewers in Germany don't seem to get that people want something different, something that's not being offered to them. We were just talking about how the same thing happened here [in the U.S.]. It had boiled down to a few suppliers that were brewing basically the same beer." -- Ted Kenny on Beer Sessions Radio
"You can be creative and be unique and people will respond." -- David Yarrington on Beer Sessions Radio
Update Required
To play the media you will need to either update your browser to a recent version or update your
Flash plugin
.
Jump to Segment:
Tags:
Dave Brodrick
,
Blind Tiger
,
Shelton Brothers
,
Joel Shelton
,
GreatBrewers.com
,
Freigeist
,
BR Royla
,
Sebastian Sauer
,
Peter Esser
,
Ted Kenny
,
David Yarrington
,
Jen Schwertman
,
Top Hops
,
Smuttynose
,
Baustelle
,
Lower East Side
,
Mahr's
,
lager
,
traditional beers
,
Slow Food
,
local
,
brew pub
,
young German beer drinkers
,
exporting German beer
,
Cologne
,
German breweries
,
brewmaster
,
kolsch
,
unfiltered
,
hoppy
,
smoked malt
,
weizen
,
traditional styles
,
beer premier
,
Tags:
big beer
,
selling a lot of beer
,
bottle shop
,
Florence Fabricant
,
Anheuser Busch
,
buy beer to take home
,
on premise market
,
cider
,
mead
,
Jolly Pumpkin
,
Ron Jeffries
,
The Festival
,
Normandy
,
Jimmy's No. 43
,
distribution
,
Dan Shelton
,
Spuyten Duyvil
,
German clientele
,
beer missionaries
,
beer journalists
,
beer festival
,
Wooster
,
small brew pub
,
lambic
,
IPAs
,
Europe
,
Tags:
inspiration
,
creative
,
contamination
,
open fermentation
,
lactic acid
,
sour
,
Freigeist
,
freaky
,
wild yeast
,
gypsy brewing
,
Tokyo Ale
,
Japan
,
Sam Adams
,
Japanese breweries
,
Bryan Baird
,
branding
,
UC Davis
,
Hampton, New Hampshire
,
farmhouse
,
barn
,
Satchmo
,
mushroom porter
,
Belgian stout
,
brettanomyces
,
dry hop
,
Charles Ireland
,
lactobacillus
,
pasteurized
,
pilot system
,
seasonal system
,
pairing
,
draft beers
,
Belgian Independence Day
,
growler
,
pints
,
wd 50
,
blog comments powered by

Disqus