Dave Arnold and Nastassia Lopez are celebrating Thanksgiving on this week's episode of Cooking Issues! Grab a bottle of wine, and tune in! Dave explains a few different ways to make bitters at home using high proof spirits or iSi methodology. Tune in to hear about Dave's bionic turkey recipe, and his mother's awesome stuffing! Dave distinguishes between stock pots and pressure cookers, and what he prefers for making stock. Listen in to hear Dave recommend sizes of stock pots and pressure cookers. Many cookbooks teach you how to cook, but Dave will teach you the proper way to rest your food! Learn more about bacteria, spores, and food borne illness. This program has been sponsored by
360 Cookware
.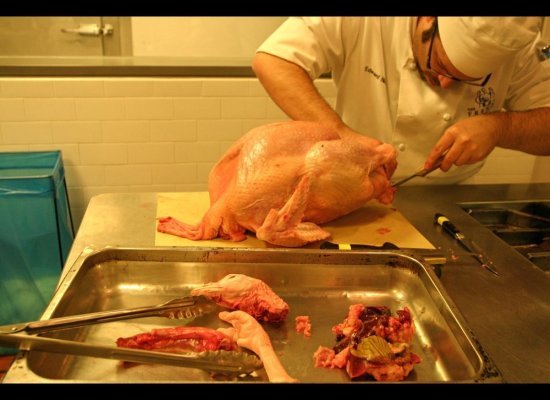 "If you want to try something that's less on the deep notes and more aromatic, try doing an iSi infusion (for bitters)." [9:00]
-- Dave Arnold on Cooking Issues
Update Required
To play the media you will need to either update your browser to a recent version or update your
Flash plugin
.
Jump to Segment:
Tags:
Thanksgiving
,
wine
,
ingredients
,
bottled water
,
dessert
,
cake
,
bitters
,
old fashioned
,
Peychaud's Bitters
,
the Simpsons
,
Brad Thomas Parsons
,
Robitussin
,
medium proof
,
infusion
,
Angostura
,
gentian
,
iSi
,
aroma
,
University of Funk
,
bacteria
,
shanks
,
dry-age
,
pork stock
,
the funk
,
Booker and Dax
,
marinade
,
high temperature
,
bath
,
turkey
,
fried turkey
,
stuffing
,
Jacques Pepin
,
sage
,
poultry seasoning
,
gravy
,
brine
,
CNN
,
The Next List
,
Cooking Issues theme song
,
punk
,
Monster Truck
,
Harold McGee
,
On Food and Cooking
,
Ziplock
,
seaweed
,
stock
,
Tags:
Pecorino
,
Barterhouse
,
machinists
,
lathe
,
Pacojet
,
pressure cooker
,
beans
,
fast release
,
natural release
,
braises
,
fry pan
,
Ossobuco
,
Jersey
,
pausing
,
mashed potatoes
,
roasted veggies
,
cream
,
half-assed
,
duck rillettes
,
FDA
,
pasteurization
,
spores
,
rice
,
anaerobic
,
Piper
,
New Jersey
,
vegetarian Thanksgiving
,
Twitter
,
vanilla
,
flavorists
,
blog comments powered by

Disqus
PARTNERS
FEATURED EVENTS